NATURAL GAINZ 4kg by JD NUTRACEUTICALS
We've taken the industry standard for "Mass Gainers" to the next level. Choosing quality whole food, natural carbohydrates instead of the industry standard of sucrose (Sugar).
In order to help alleviate the massive influx of insulin released after consumption of sugary products. Giving your body the opportunity to use it for fuel instead of storing it.
We've combined this with 3 multiphase release proteins WPI, WPC and Collagen. Which are easy on digestion and will feed your body the necessary amino acids in order to recover and grow. Just incase we've even added digestive enzymes to help eliminate any bloating and help you get the most from your gainer!
This product can be used by anyone looking to increase their weight or muscle mass. It offers 384 easily digested calories per serve. Making it perfect for those who live a busy life and find little time to eat. Being sourced from whole foods this product can be taken by men, women and children and is safe for sport.
Mix one serving (3 scoops) with 300-350ml of chilled water and consume post workout.
A second serve can be consumed throughout the day.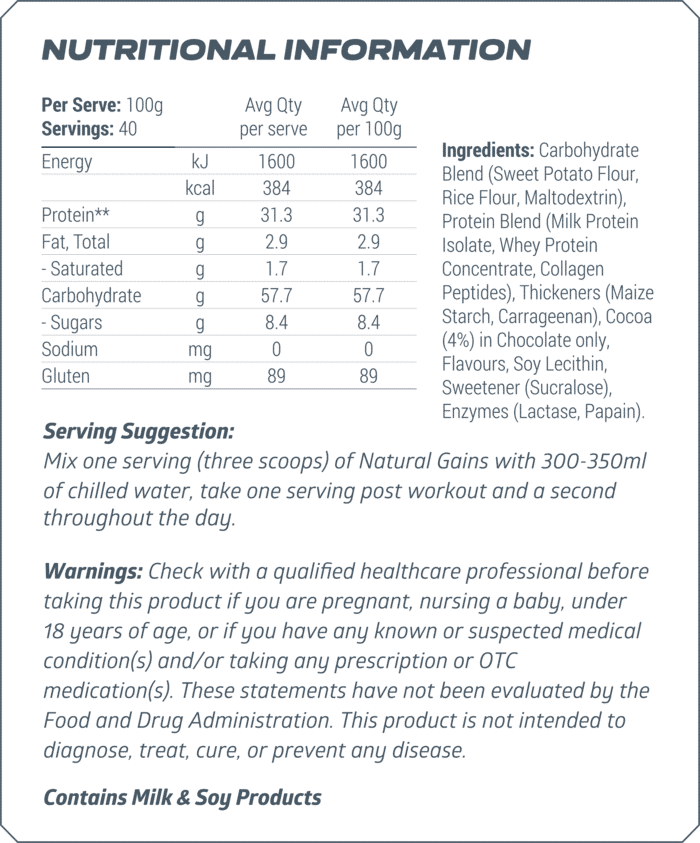 Reviews