NATURAL DELUXE WHEY 3kg by TOP NUTRITION
Top Nutrition Deluxe Whey

After 20 years of refinement, Technical Optimum Performance has perfected Deluxe Whey Protein WPC+HWPI to offer serious athletes an incredibly effective source of protein. This unique combination of Whey Protein Concentrate and Hydrolysed Whey Protein Isolate come together to fuel your body with a steady supply of protein throughout the day and night to keep your muscles in positive nitrogen balance, meaning the ultimate environment for rapid muscular recovery and growth. Technical Optimum Performance's careful chemical-free cross-flow micro-filtration process ensures the most biologically active protein possible, infused with the active enzyme chymotrypsin, high in branch-chain amino acids and glutamine peptides, vitamins and minerals. Deluxe Whey Protein WPC+HWPI is a cornerstone for the serious trainer.
Hydrolysed Whey Protein Isolate and Whey Protein Concentrate blend

Loaded with 24 grams of bio-engineered protein per serve

Ultra low fat

Stacked with 18 essential vitamins and minerals

Fortified with 18 branch chain and essential amino acids to promote heavy weight gains

Great tasting and instantised for easy mixing and assimilation into the blood stream
Blend 30g (1 full scoop) with 200ml of low fat milk, chilled water or soy milk. Adjust the amount of liquid to achieve your desired taste and caloric or protein requirement. For variety add to plain yoghurt, cereal, cakes, muffins, pancakes, mousses or soups to ramp up your protein intake.

Recommended Daily Usage.
Two serves daily as a minimum and up to four serves, depending on the intensity of your training program and protein requirements.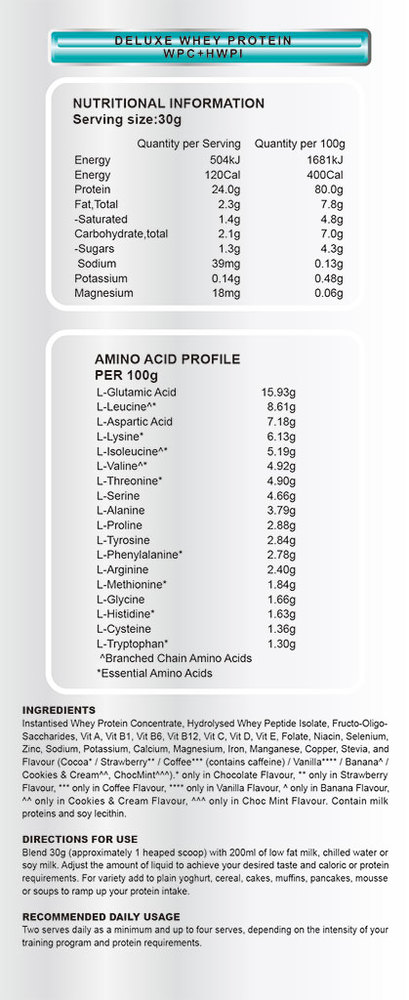 Reviews